Glass Entrances and Railings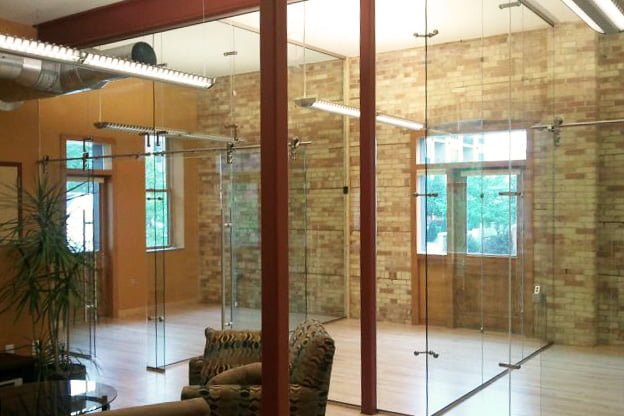 Glass Entrances
Interior Glass Doors and Walls
All glass entrance systems give a clean "mullion-less" appearance while providing one with privacy and security. A great look for conference rooms, office suite entrances, or shared spaces. Entrance doors are available with a wide variety of hardware, colors and glass types. Typically all glass entrance systems are used on the interior, however, they can also be used in an exterior application.
Glass Railings
Glass can be used for railings and stairs in a variety of ways. Our experienced crews can install a solid glass railing system without vertical support posts, creating a seamless view from any level. Another type of railing incorporates metal supports with glass infill panels. Or use glass in combination with a wood or metal railing system. There is a variety of glass railing hardware options in a host of finishes. Please contact Hellenbrand Glass so we can help design a glass railing system that meets your vision and budget.
PERFORMANCE GLASS PARTNER
Want to find a better, more cost-effective way to do a project? Need to make sure what you've designed will work as expected? Have a difficult glazing that another glazing company couldn't accomplish? Let us show you how our expertise and technology can simplify your glazing project so you can focus on other details.