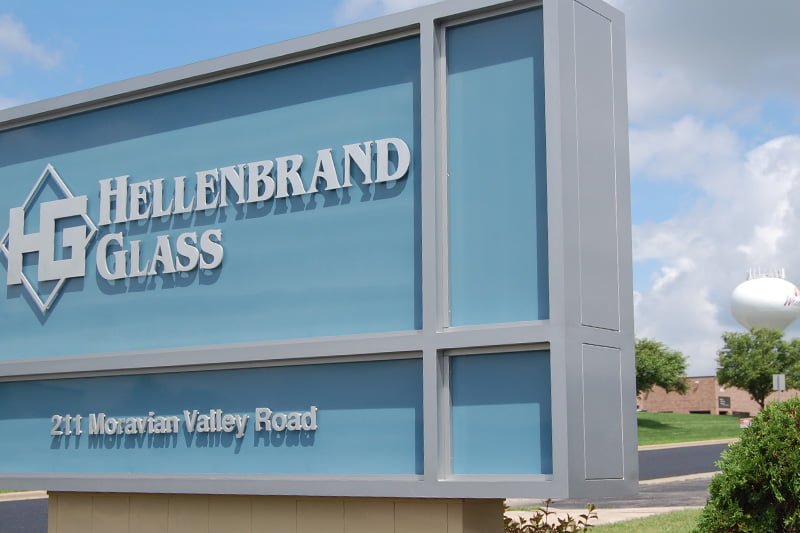 SIGNS
Signs and Lettering
Our HG Signs division began as complementary service to all our core glass products, but has evolved into a full-service sign and lettering shop. With more than 30 years in the sign business, our team has the extensive knowledge, background, and artistry to make us the best choice for your custom sign and lettering needs. HG Signs is committed to providing excellent customer service and quality that comes with every Hellenbrand Glass project.
Our facility allows us to work on vehicle and trailer lettering in the climate controlled bays of our HG Sign shop. Our expansive services also include large format design, signs for buildings and glass film applications.
Signage plays a crucial role in the design and identification of any commercial facility or vehicle. By using a combination of vinyl graphics, acrylic, metal, or wood, you can create an inviting and memorable impression at every turn. Building signage is a great way to take pride in your brand. Utilize LED signs, or printed graphics to get the most exposure for your business.
Services
Commercial Property Signs
Custom Lettering
Vehicle Lettering
Custom Films for Glass and Other Substrates
Custom Pinstriping
Boat and Recreational Vehicle Lettering
COMMERCIAL SIGNAGE PARTNER
From interior signage to large business exterior signs, HG Signs can help you design the perfect one for you. We take under consideration your budget, timeline and we provide you with the best suitable solution. We pride ourselves in the quality of our service.