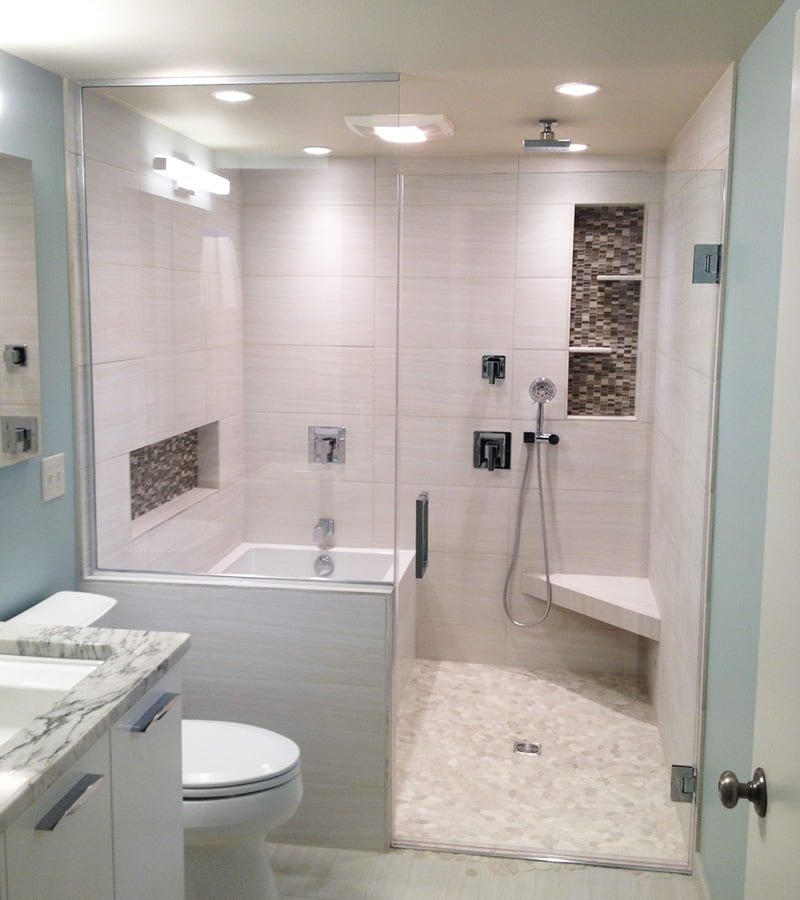 Visit our Showroom and Start Dreaming
Shower Doors
Homeowners and contractors throughout the region have come to rely on Hellenbrand Glass to provide high-quality and affordable shower door solutions for virtually any application. We carry full lines from many national manufacturers and provide unmatched installation experience for residential and commercial jobs of all sizes.
What will make the difference in your shower door purchase? That would be Hellenbrand Glass' in-depth product knowledge and experience. We've built our reputation on making your shower door installation fast, easy and efficient. Many of our expert technicians have been with Hellenbrand for years, and have decades of experience in residential and commercial installations of all types.
Perhaps the best way to get an idea of the expanse of our shower door expertise – as well as the imaginative work we can do for you – is to visit our Showroom. We display a wide variety of shower door products from leading manufacturers to help you envision the added value and functionality that shower door can bring to your home.
We can also explain to you how our Hellenbrand Glass installation expertise can help to avoid typical installation difficulties and deliver a finished job that you'll be proud of for years to come.
Custom Built Shower Enclosures
Hellenbrand Glass can build a custom enclosure to fit any shower configuration. Your choices are fully framed, semi framed and frameless shower enclosure. All three options include a wide variety of hardware finishes and glass types so your new enclosure will be one of kind. Fully framed shower enclosures with 1/4″ glass are cost effective because of the reduction in glass fabrication and glass thickness. Semi frameless shower enclosures are available with 1/4″, 3/8″, or 1/2″ glass panels. This assembly may include only a support header and or perimeter u-channels. A Fully frameless heavy glass shower enclosures are constructed using 3/8″ or 1/2″ glass panels. This assembly uses glass clamps and clear silicone in lieu of support header and or perimeter u-channels.
Some of your choices may include:
Hinges: wall mount, glass to glass, continuous hinged or pivot
Fixed panel fasteners: u-channel, glass clamps, wet glazed
Handles: Back to back c-pull, knobs, c-pull towel bar combo, back-to-back towel bar or designer pulls.
Hardware colors: over 25 choices available
Glass thickness: 1/4″, 3/8″, 1/2″
Glass patterns & type: Clear, Starphire, Shower Guard, Tinted, Matelux (satin etched), Rolled Cast, Rain, Ultraglass to name a few.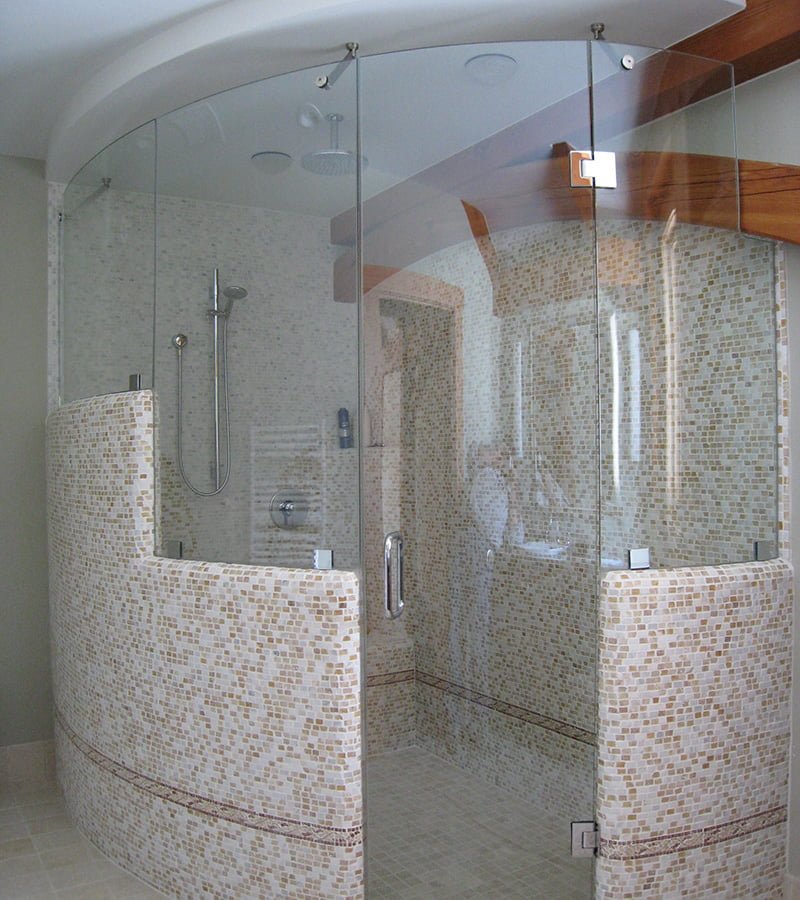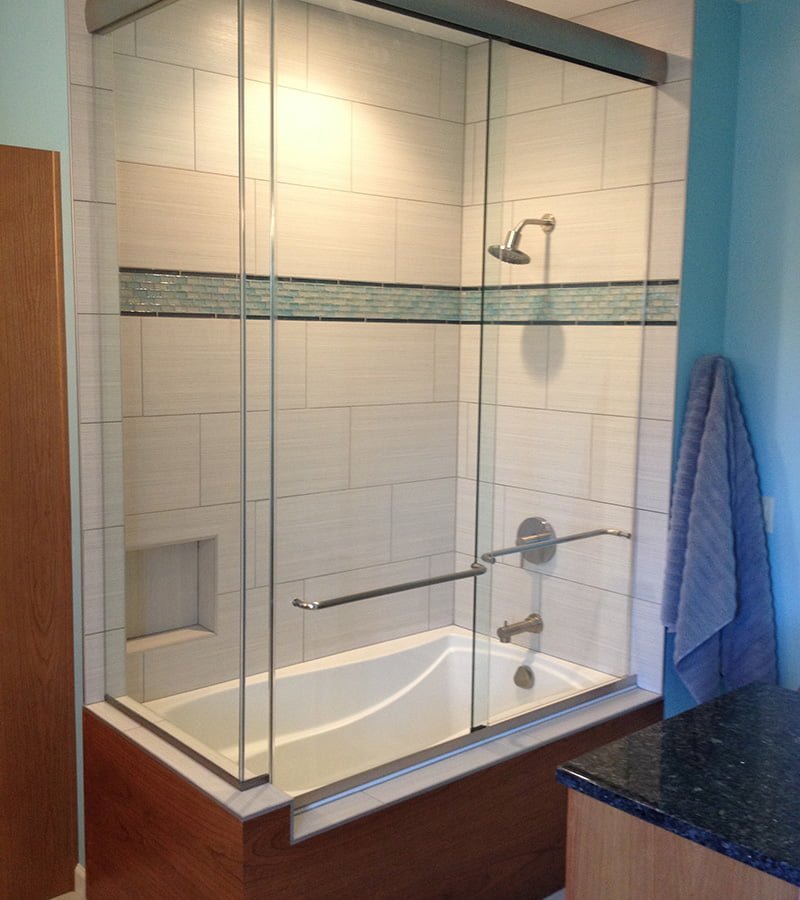 Standard Shower Enclosures
Hellenbrand Glass stocks standard shower doors to fit most of the common fiberglass modules in our area. We stock Basco and Alumax sliding bypass doors with silver frames and obscured glass. In addition we stock standard door kits and framing. Hellenbrand Glass can quickly expedite a door and panel assembly, since we have the materials in stock and are able to get a tempered glass panel within 48 hours. Whether your project is a single family home or a multi-family housing community, Hellenbrand Glass has the products and the installation expertise to get the job done. Please check out the links below for the options available from our manufacturers.
What to consider when designing your custom shower enclosure
Involve Hellenbrand Glass early in the design phase of your custom built shower enclosure, even before construction has begun, this will insure a smooth installation from start to finish
The initial layout of your shower enclosure is very important. Hellenbrand Glass can use their experience to show you what will work and what doesn't work. For example, body sprays and multiple headed showers can cause leakage even in a properly installed shower enclosure. Therefore the consideration of the placement of door opening and hinging will help you to avoid any unnecessary problems. We will give you our recommendations on handing, wall and sill construction, fixture interference and many other unseen situations. Our ultimate goal is to give you the best configuration to make your shower safe, convenient, trouble free and beautiful for years to come.
Heavy glass enclosures with 3/8″ or 1/2″ glass may require additional support blocking in the wall. All tile and marble needs to be installed using a consistent bed of mastic. Any voids are the cause of tile cracks when installing the shower door. Knee walls, buttresses, and thresholds should be level. At the door curb a slight pitch (1/8″) into the shower will help prevent leaks.
After your shower walls and floors are completed, Hellenbrand Glass will measure the shower opening and check for any uneven conditions. While at your residence, we will finalize the shower enclosure layout, along with hardware finish and glass type. Please note that we can cut the glass "Out-of Square" but not bowed.
Utilizing our accurate measurements we create a two dimensional drawing of your shower enclosure on AutoCAD. By creating these drawings we get very accurate fabrication sizes for the shower enclosure. The detailed drawing of the glass panels are then sent to our glass supplier. This process is faster and helps eliminate mistakes.
Installation is performed with excellent workmanship. Our installers use silicone caulk to insure a waterproof seal on your shower enclosure. Hellenbrand Glass then cleans the glass and hardware on your shower enclosure and makes any final adjustments that are needed.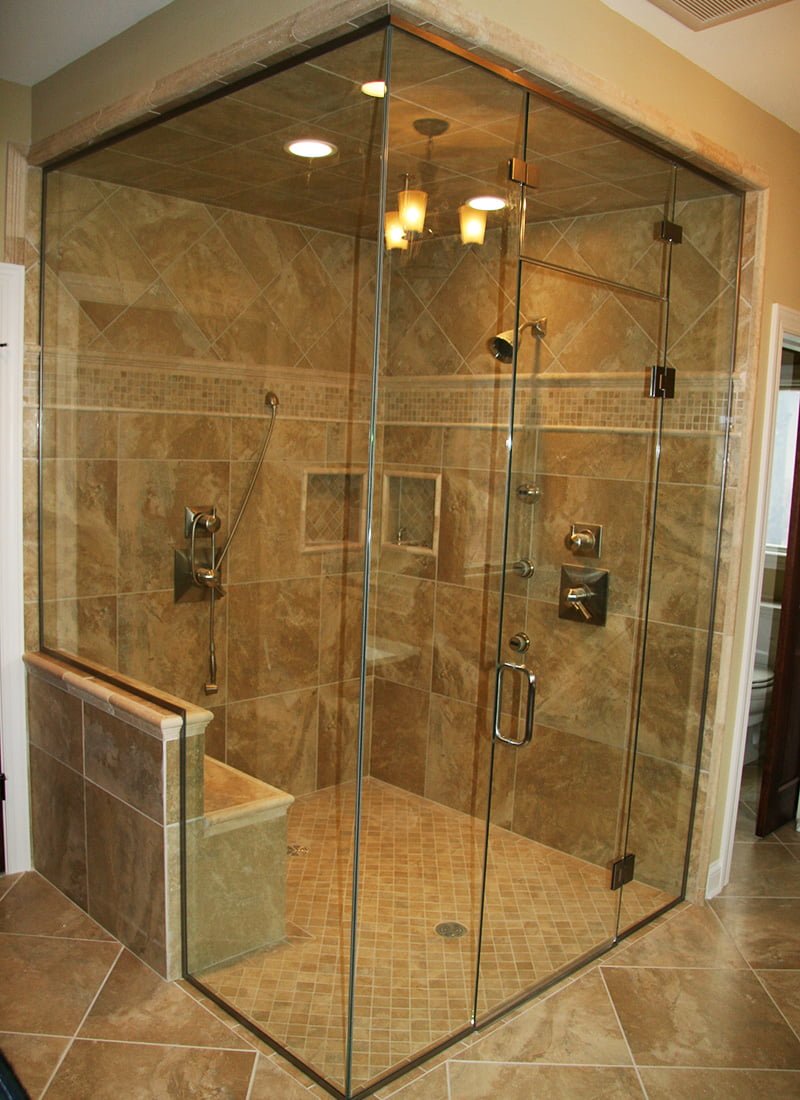 RESIDENTIAL GLASS PARTNER
Want to find a better, more cost-effective way to do a project? Need to make sure what you've designed will work as expected? Let us show you how our expertise and technology can simplify your glass project so you can focus on other details.