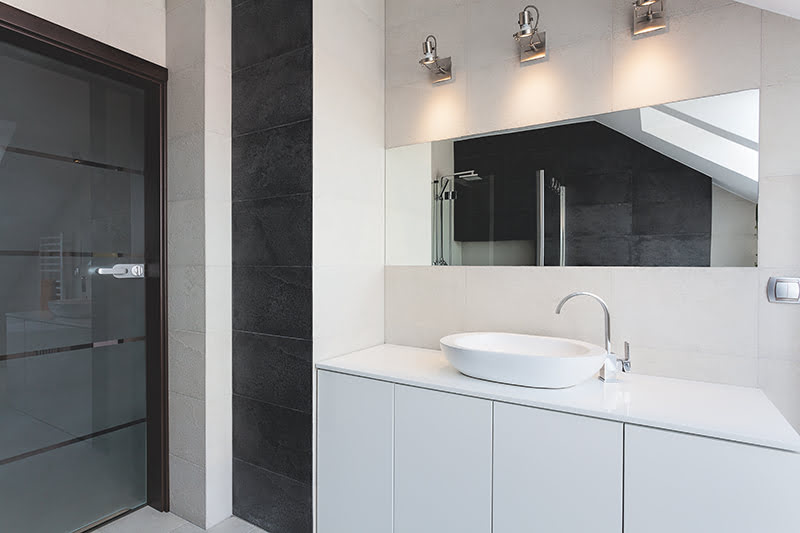 COMMERCIAL MIRROR INSTALLATION
Visit our showroom. Start dreaming.
Homeowners and contractors throughout the region have come to rely on Hellenbrand Glass to provide high-quality and affordable mirror solutions for virtually any application.
What will make the difference in your mirror purchase? Hellenbrand Glass has in-depth product knowledge and experience. We've built our reputation on making your mirror installation fast, easy and efficient. Many of our expert technicians have been with Hellenbrand for years, and have decades of experience in residential and commercial installations of all types.
Perhaps the best way to get an idea of the breadth and depth of our mirror expertise – as well as the imaginative work we can do for you – is to visit our Showroom. We display a wide variety of mirror products from leading manufacturers to help you envision the added value and functionality that mirrors can bring to your home.
We can also explain to you how our Hellenbrand Glass installation expertise can help to avoid typical installation difficulties and deliver a finished job that you'll be proud of for years to come.
STANDARD MIRRORS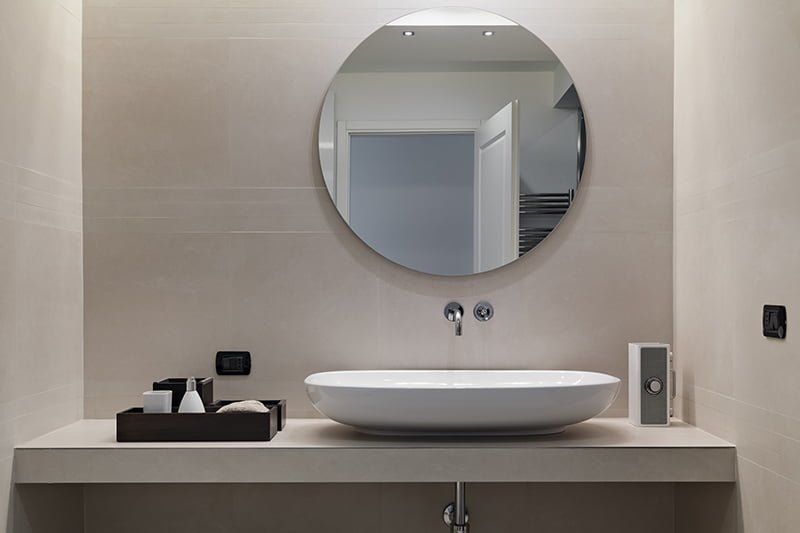 Hellenbrand Glass purchased a glass-edging machine in 1994, since then we've been able to produce polished edged mirrors equal in quality to the manufacturer's standard pre cut mirrors. We can cut, grind and polish mirrors in any size you require, as long as it's within the limits of the stock sheet size. We stock mirror sheets in 144″ x 36″, 144″ x 42″, 144″ x 48″, 120″ x 60″, and 120″ x 72″. Other sizes may be special ordered.
Our Ultra Mirror can actually defend itself against the destructive elements that degrade a mirror's reflectance and lifespan. This is accomplished by applying an ultraviolet coating for superior strength, and by fine-tuning the silvering process to promote corrosion-resistance. The end result is a beautifully reflective mirror that exceeds all industry standards and comes with a 10-year limited warranty.
BEVELED MIRRORS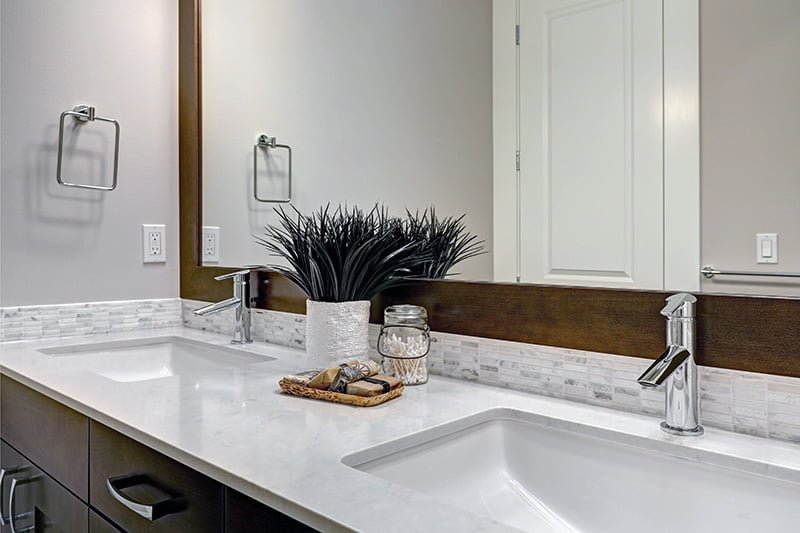 We stock ½" beveled mirrors 36″ tall in the following widths: 24″, 36″, 42″, 48″, 54″, 60″, 66″, and 72″. These are the most commonly used sizes. Other standard sizes are also available.
Hellenbrand Glass recommends installing the bottom of the mirror 2″ above the vanity's back splash and to choose the beveled mirror one size narrower than the width of the vanity, so as not to hide the beveled edge. Typically the mirrors are fastened with special mirror clips that match the contour of the beveled edge.
Besides the standard beveled mirrors, we also stock a 1″ beveled edged oval mirror size 24″ x 36″, which is commonly used over a pedestal sink in a power room.
Hellenbrand Glass can provide custom beveled mirrors in endless shapes and sizes. We can custom order your specific sized beveled mirror with beveled edges ranging from ½" to 2″ We also have decorative beveled mirror strips to accent either the edges of a vanity mirror or to highlight the joints between multiples mirrors. Whatever your custom beveled mirror requirements are, we're happy to help. Please call for lead-time and minimum/maximum size limitations.
MIRRORED WALLS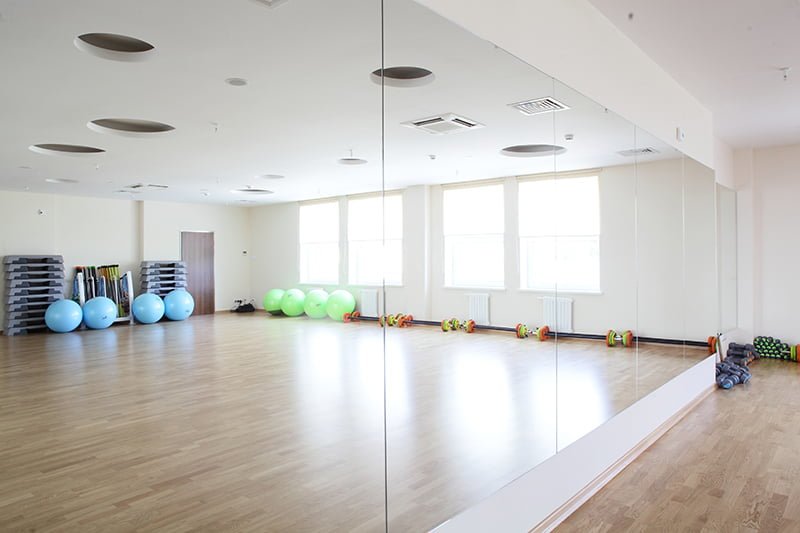 Thinking of remodeling or redecorating your home or office? Before you go to all the expense, investigate the benefits of room expanding mirrors. Our pros can show you how mirrors not only add beauty but also provide the appearance of a larger area. We have a large selection to choose from including clear, tinted, or beveled edge mirrors with a wide range of decorative metal and glass trims. Our experts will help you in imaging the endless possibilities.
Looking to create a great workout or exercise room? Have Hellenbrand Glass create your own personal health club by installing mirrors similar to the mirrors that we have installed at large health clubs in our area.
CUSTOM FABRICATED MIRRORS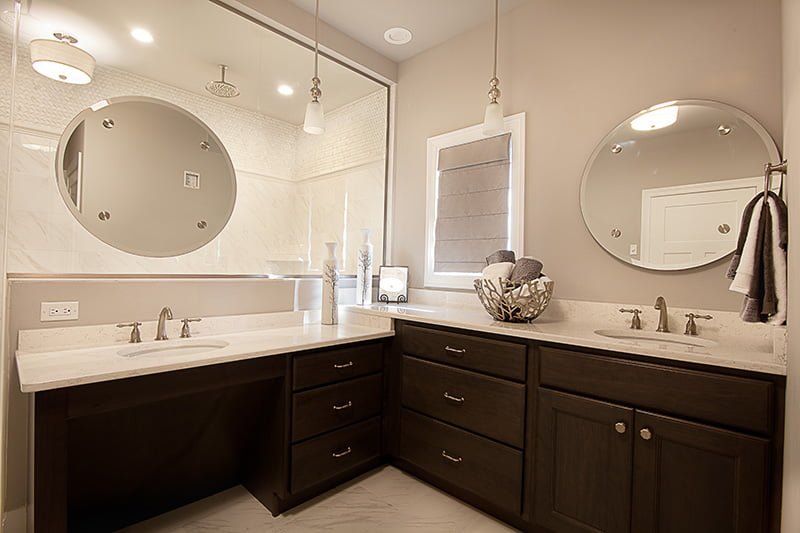 Hellenbrand Glass is a full service custom glass fabrication company. We design and create custom mirrors in any size or shape (within sheet limitations). We have invested in equipment to shape and polish the edges of the mirror to make for a very consistent and clean look that adds to the quality of our finished products. Having our own equipment insures quality and timeliness to the finished product. By speeding up production without sacrificing quality we are able to offer very competitive prices. Cutting holes in glass to accommodate outlets, lights and sconces has become much easier.
FRAMED MIRRORS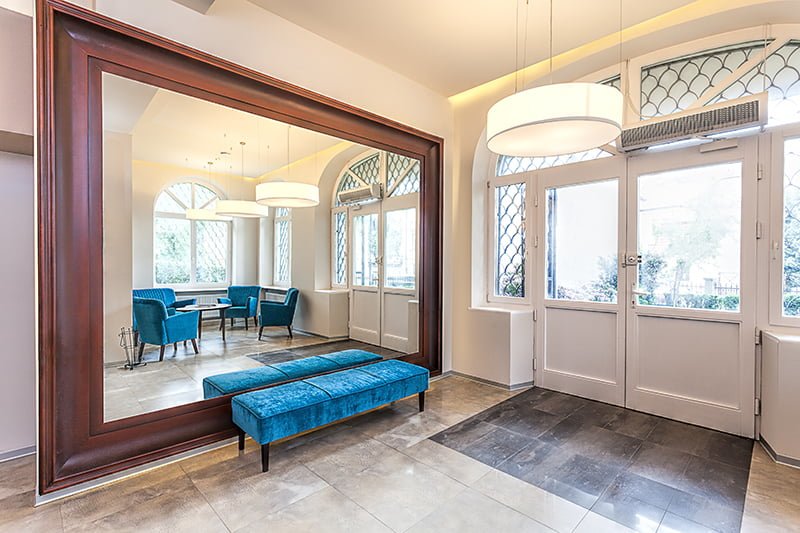 Stop by our showroom and see the wide variety of frame corner samples. We can custom size any frame to fit your needs. Adding beveling around the mirror will add depth and elegance. We have also applied lights to the surface of the mirrors to create the appearance of a larger area while adding a touch of class.
PERFORMANCE GLASS PARTNER
Want to find a better, more cost-effective way to do a project? Need to make sure what you've designed will work as expected? Have a difficult glazing that another glazing company couldn't accomplish? Let us show you how our expertise and technology can simplify your glazing project so you can focus on other details.